Mother Caroline Academy's 2021 Virtual Gala – Still We Rise
On April 29, 2021, MCAEC held their first virtual gala – Still We Rise. We are thrilled to announce that we were able to achieve the $100,000 match challenge from Markey and Tom Burke and family, and the $25,000 match from Marci and Todd Abbrecht, continuing on to surpass all gala goals, raising $285,000. View the event here
https://www.yot.me/join/acc807a6487e3e75
MCAEC's 2021 Gala will be virtual this year. Please join us for a brief but powerful evening featuring students, alumnae, and staff.
Click on the photo below for a link to tickets and sponsorships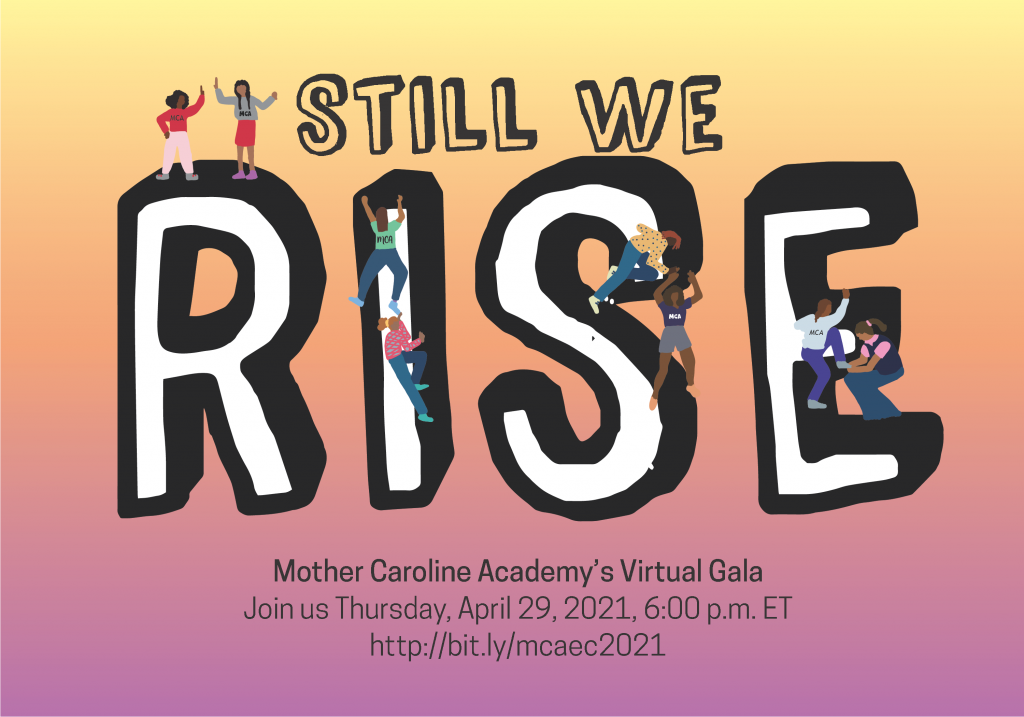 Gross Match Challenge 2020
March 26, 2020
Dear Friend,
We hope you and your family are adjusting to this new normal and staying safe during this unprecedented time. We want you to know that our teachers and faculty are in constant contact with our students and families to give them the support they need during this challenging time.
Due to the current public health emergency, we made the decision to cancel our gala, and we have been assessing the impact of that lost revenue. Thankfully, our most prominent donors, Phill and Elizabeth Gross, have stepped up in recognition of our loss of gala funding, to offer a 1.5 match. For each dollar donated, they will donate $1.50, with a total possible match of $300,000 if we can raise $200,000. We are so grateful for this match and hope you will consider donating to help us to reach this goal!
Thank you to Phill and Liz for supporting MCAEC in this hour of need, and to those who have already donated towards the gala. If you have not yet donated, but would consider repeating your donation amount from last year's gala, we would greatly appreciate it. Every donation, no matter how small, will help us to support our students.
Donations can be made online while the school is closed. Any amount will help us reach our goal to support girls from limited financial means. Now is the time to donate and see your gift impact increased thanks to the Phill and Liz Gross. If you would like to confirm what you donated last year at the gala, please email our Development Director, Carrie Coughlin, at ccoughlin@mcaec.org.
We are planning an event in the fall in the downtown area – details coming soon. We hope our community, students, alumnae, families, and supporters alike, stay safe and healthy at this challenging time. Thank you for supporting our mission as we keep MCAEC students and programs as our main priority.
With gratitude,
Annmarie Quezada Head of School
2020 Night of the Arts – A Virtual Celebration
Thank you to all for your support at our first virtual event! Click here to view the program
Virtual Gala 2020
"A Night of the Arts" on November 14
Our students are so proud of their artwork, their chorale work, their spoken word/poetry and we are looking forward to offering this glimpse of the arts at MCA! Please join us on Thursday, November 14, at The Benjamin Franklin Institute, 41 Berkeley Street in Boston's South End for cocktails and hors d'oeuvres. Click the image below to link to tickets and sponsorship opportunities.
"Annual Dinner" on May 2
We are looking forward to our Annual Dinner on Thursday, May 2, from 6-8pm at Venezia, 20 Ericsson Street, Boston, MA 02122. The short program will highlight new programs at MCA, started this year under Annmarie Quezada's leadership. Old Town Trolley transportation will be provided from Back Bay if needed.
Click on the photo below for a link to tickets and sponsorships