$319,502 raised to support MCA students!
Thank you for joining us in celebrating 30 years of empowering girls in Dorchester to think bigger, bolder, and beyond, through educational excellence, leadership development, and community stewardship. We exceeded our $300,000 goal, raising over $319,000 in support of our students and their futures. Check back on the events page of our website for more opportunities to celebrate our 30th anniversary with us all year long.
Hear what our students are saying about the impact of their time at MCA in this short video.
Get Tickets
Registration is CLOSED for the event. Thank you for joining us! Check back on our events page throughout the year for more opportunities to celebrate 30 years with us.
---
About the Honorees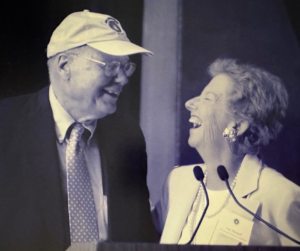 Sue and Mike Hazard have been pillars in the MCA community since they first got involved with the school back in 1997. The couple have worn many hats throughout our 30 year tenure, and there is little that Sue and Mike have not personally impacted here at Mother Caroline Academy.
Throughout our major capital campaign to expand the building and build a gymnasium for the students, Sue and Mike's involvement was the lifeblood of completing the campaign. The gym itself has been essential to student life at MCA, as it is the home for daily chapel, talent shows, drama performances, our annual culture show, and so much more. It's hard to imagine what MCA would look like without Sue and Mike's personal commitment to the expansion.
Outside of this, Sue has remained a fierce advocate for the MCA mission, expanding our network and spreading the word throughout the city about our students. She has personally made the effort on numerous occasions over the years to plan and teach unique art projects to the MCA students. To this day, Sue still makes the effort to bring these art projects to MCA students, even if she has to do it virtually.
Sue and Mike have been champions of the MCA mission in every way imaginable. Mike served on the investment committee for years, growing the MCA endowment and therefore creating strong foundations and longevity for the school. Whether it's been as staff, volunteers, teachers, donors, committee members – Sue and Mike have played every role, and have exemplified what it means to dedicate your life to empowering young women through robust and diverse educational opportunities.