UPCOMING EVENTS
November 9, 2023 at The 'Quin House – 30th Anniversary Fundraiser
Honoring Mike and Sue Hazard
The 2023-2024 school year marks 30 years of empowering young girls in Dorchester to think bigger, bolder, and beyond, through educational excellence, leadership development, and community stewardship.
We've seen our classes grow from serving just 5th and 6th grade at our opening in 1993, to now being the only tuition free, all-girls school serving girls in grades 3-8 in the City of Boston. We've watched alumnae graduate from Mother Caroline to transition into over 50 high schools in New England and more than 70 colleges and universities around the country. Not only that, but MCA alumnae have moved onto impressive careers in a wide variety of fields, from venture capital, to education, healthcare, and so much more.
You have directly made this happen through your belief in our mission and your support of MCA students and families. We hope you'll join us in celebrating this amazing milestone on November 9th at The 'Quin House!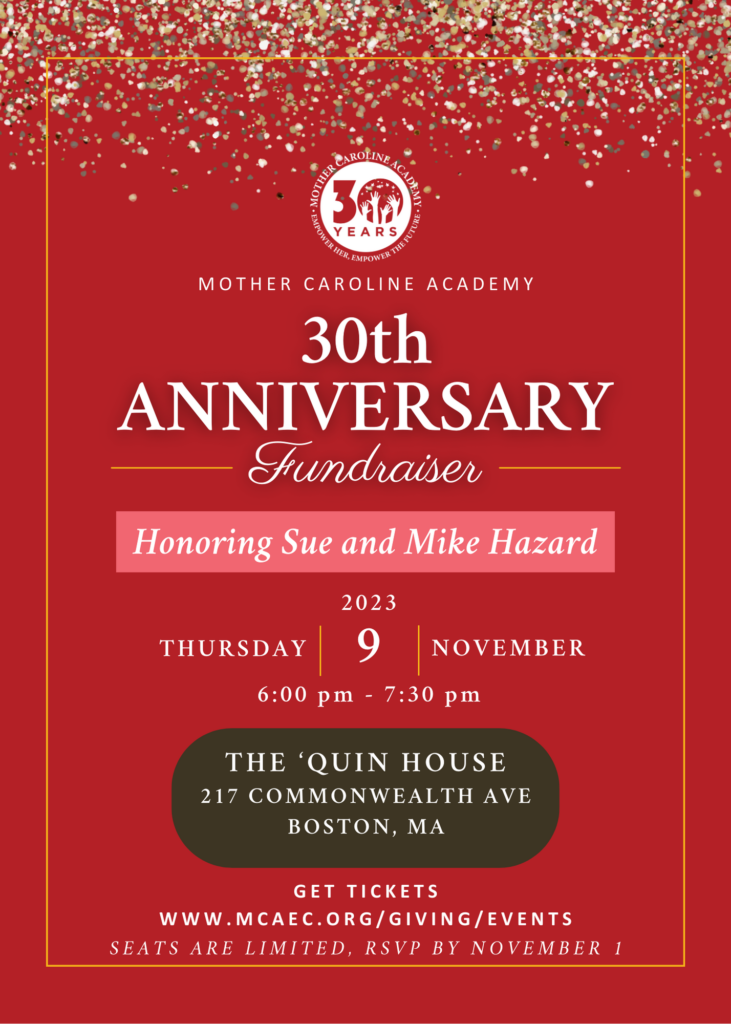 PAST EVENTS
April 13, 2023 – Virtual Spring Gala
"Empower Her, Empower the Future"
Thank you for attending our annual spring fundraising event on Thursday, April 13, at 6 pm EST! With over $325,000 raised, we cannot thank you enough for your support of our mission and MCA students. If you missed the event, you can watch either a shortened version or the full version of the video below.
Abbreviated Version (9 Minutes)
Full-length Version (30 Minutes)
Thursday – April 13, 2023, 6:00 PM (EST)